Ever since we moved into our new larger office, we've been exploring the neighborhood and trying to see what we can get involved with.
We're just a block down now from the main branch of the Akron Public Library. They're home to many interesting programs (and a great asset to the community), but the one that piqued our interest is the TechZone@Main. Offering up a wide variety of cool equipment and resources, anyone can stop in and use things like 3d printing, green screen video, audio recording studio, photo printing, laser engraving, and more.
What caught our eye was the vinyl printing. We're working with a local company on getting some external signage for our new office, but we wanted to supplement that with some vinyl graphics for windows.
The library staff was patient and helpful as we prepared our files, and we even got to watch the printer in action, slowly building our graphics, making another pass to score the material after printing so you can easily peel off your custom shapes.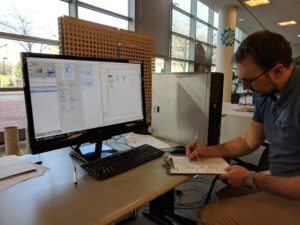 In a few minutes we had our prints; all we had to do was peel away the uncut areas and stick the vinyl to our glass.
Overall it was a great experience and we now look more official from the front door. We're not sure if this material and approach is what we'll use long term (and it's hard to see in the photos), but this was quick and painless way to test it out and learn about the process.